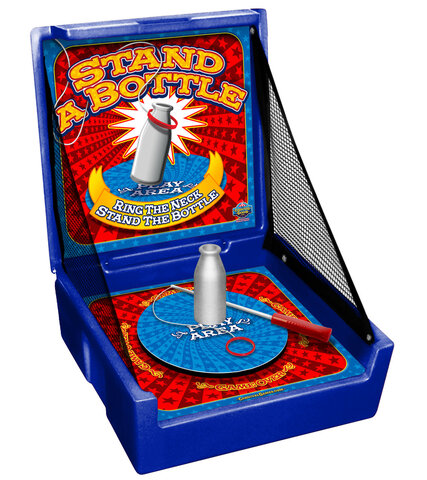 Stand The Bottle Carnival Game 🎡
Introducing the Stand The Bottle Carnival Game, a classic and exciting addition to any event or party! This game is perfect for all ages and will have your guests entertained for hours.
The Stand The Bottle Carnival Game features a sturdy and durable construction, ensuring it can withstand even the most enthusiastic players. It is designed with vibrant and eye-catching colors, making it a standout attraction that will draw in a crowd.
How to play? It's simple! Players are given a pole with a string attached to a ring try to stand the bottle up without it falling. It's a test of skill and precision that will keep players engaged and coming back for more.This carnival game is not only fun but also promotes friendly competition and camaraderie among players. It's a fantastic way to break the ice and create lasting memories at any gathering. Whether it's a birthday party, school fair, or corporate event, the Stand The Bottle Carnival Game is sure to be a hit.
Don't miss out on the excitement and laughter that the Stand The Bottle Carnival Game brings. Get yours today and make your next event an unforgettable experience for everyone involved!