Water Slide & Bounce House Rentals in Gilroy, CA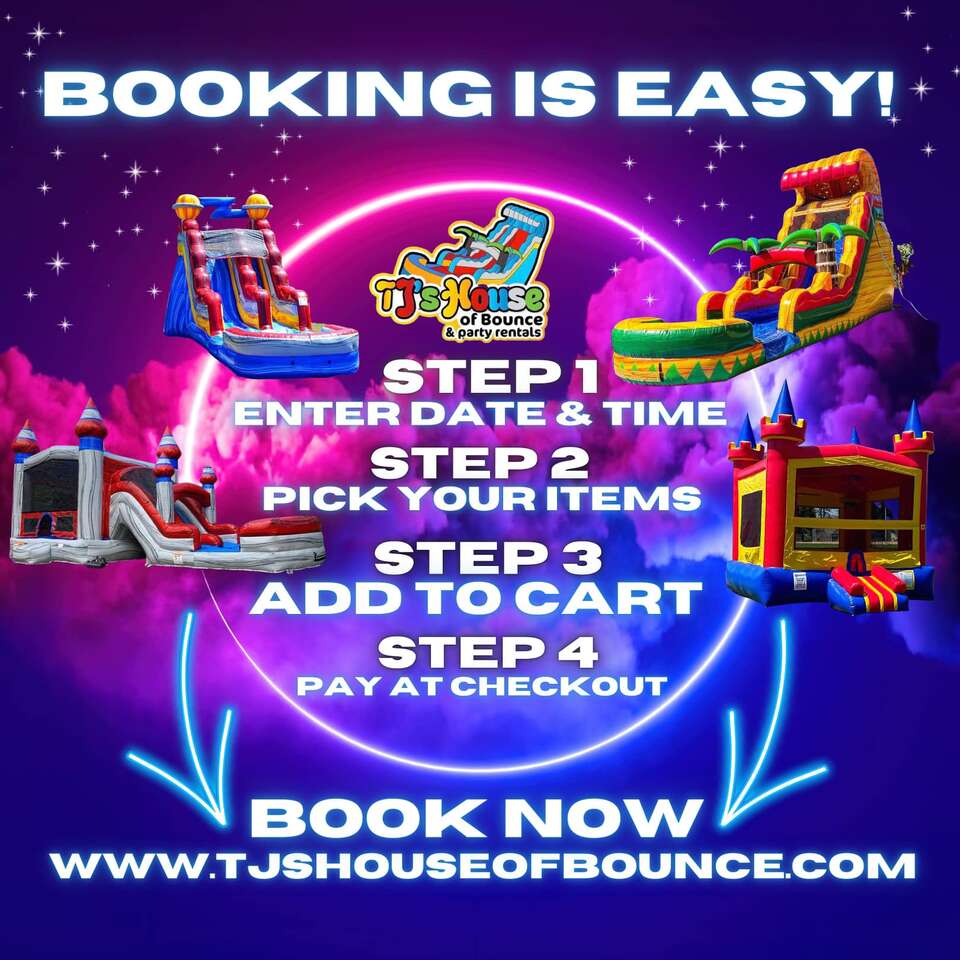 When it comes to fun in Milpitas, CA, TJ's House of Bounce delivers!
Looking for the ultimate fun experience for your next event in Gilroy, CA? At TJ's House of Bounce, we specialize in offering top-notch bounce house and water slide rentals, ensuring that your party, gathering, or special occasion is filled with joy, laughter, and memorable moments.
Where Can You Use Our Rentals?
Whether you're hosting a birthday party, a school event, or a community gathering, our bounce houses and water slides are perfect for any event. We've previously partnered with local institutions and areas such as:
Schools: Events at Christopher High School and Gilroy High School have been made even more special with our fun-filled bounce houses and water slides. From fundraisers to fairs, our rentals have been a hit among students and teachers alike.

Neighborhoods: The Westwood and Rancho Hills neighborhoods have witnessed our bounce houses livening up block parties, birthdays, and community gatherings. Residents of these neighborhoods can vouch for the joy our rentals bring to any event.

Church Events: The vibrant community at St. Mary's Church has enjoyed our services during their community events and fests. Our bounce houses and water slides complement their gatherings, adding an element of fun and excitement for the kids and families.
Easy Booking & Set-Up
At TJ's House of Bounce, we believe in providing a hassle-free experience. From the moment you book a bounce house or water slide rental with us for your Gilroy, CA event, our team takes care of the delivery, setup, and take-down, allowing you to focus on enjoying the event.
Enter Date & Time
See Our Selection of Inflatable Rentals & More
5 Great Reasons to Choose TJ's House of Bounce
1. Unmatched Quality and Safety Commitment:
At TJ's House of Bounce, we prioritize the safety and well-being of all our clients, from the children in the Westwood neighborhood to the teens at Gilroy High School. Each of our bounce houses and water slides undergoes rigorous safety checks and regular maintenance. We follow industry-leading standards, ensuring that every party or event is not just fun but also safe. When schools like Christopher High School trust our equipment for their events, you can be confident in our unwavering commitment to quality.
2. Extensive Variety for Every Occasion:
Whether it's a block party in Rancho Hills, a church gathering at St. Mary's Church, or a school fair, we offer a vast range of designs to suit every occasion. From colorful bounce houses for toddlers to exhilarating water slides that even adults can't resist, our inventory is always updated to include the latest and most popular designs. With TJ's House of Bounce, every event is bound to be a hit, no matter the audience!
3. Competitive and Transparent Pricing:
We understand the diverse community of Gilroy, from the tight-knit neighborhoods to the bustling school events. That's why we've designed our pricing packages to offer incredible value. Whether it's a grand event at Christopher High School or a small birthday bash in Westwood, our rates are competitive, without any hidden costs. Every resident of Gilroy, be it from a school, neighborhood, or church, deserves the best, and we ensure they get it without breaking the bank.
4. Hassle-Free Experience from Start to Finish:
From the serene streets of Rancho Hills to the lively events at St. Mary's Church, our services are tailored for utmost convenience. Once you choose TJ's House of Bounce for your event in Gilroy, our dedicated team takes over. From punctual delivery to professional setup and take-down, we handle everything, letting you focus solely on enjoying your event. It's no wonder that schools, neighborhoods, and churches across Gilroy continually trust us with their most special occasions.
5. A Proven Track Record with the Gilroy Community:
TJ's House of Bounce isn't just a rental service; we're a proud member of the Gilroy community. Over the years, we've had the privilege of serving numerous events, from birthdays in local neighborhoods like Westwood to major gatherings at places like St. Mary's Church and Gilroy High School. Our reputation is built on countless happy memories, laughter-filled moments, and the trust of the Gilroy community. When you choose us, you're opting for a service that understands and values the heartbeat of Gilroy.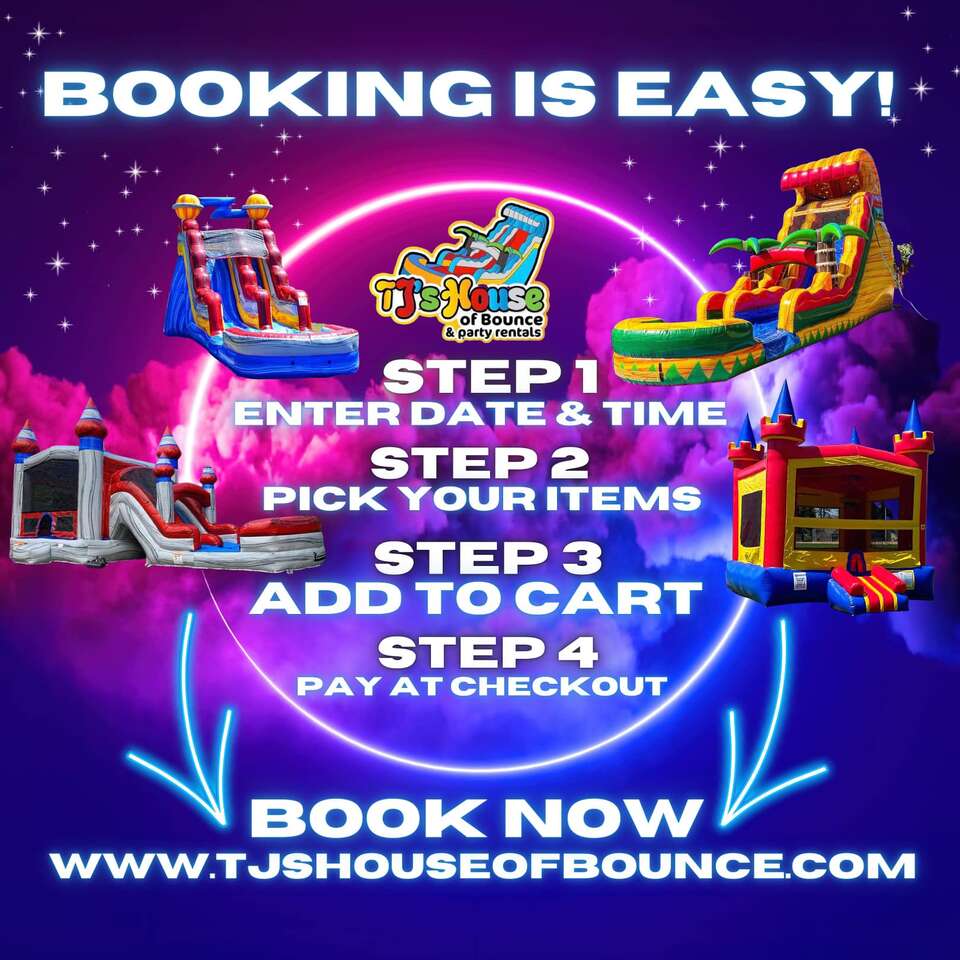 Let us show you how stress free your party can be!
Ladies and gentlemen, when it comes to creating memories, fostering joy, and guaranteeing the pinnacle of fun-filled entertainment for our children, families, and communities, there are choices – and then there are exceptional choices. TJ's House of Bounce is not just a rental service; it's an embodiment of excellence, safety, and community-driven ethos right here in Gilroy.
Consider the numerous events that punctuate our lives: birthdays, anniversaries, school gatherings, church events, and neighborhood block parties. Each of these moments is a precious tapestry of memories, woven with laughter, joy, and shared experiences. Now, imagine amplifying this joy, ensuring that every child's laugh is a tad louder, every memory a bit more colorful. That's what TJ's House of Bounce brings to the table with its impeccable range of bounce houses and water slides.
Safety is not just a word; it's a pledge for TJ's. Every bounce house and water slide is meticulously maintained, inspected, and sanitized, ensuring the children of our community, whether from Westwood neighborhood or Gilroy High School, experience fun in the safest environment possible. And with an ever-evolving inventory, TJ's ensures that there's always something new, exciting, and in-trend for everyone.
Price transparency and competitive rates further showcase TJ's dedication to the Gilroy community. It's a clear testament that quality experiences don't always come with exorbitant price tags.
In conclusion, as you contemplate the best choice for your upcoming event, think about the echoing laughter of children, the peace of mind that comes with assured safety, the satisfaction of value for money, and the joy of being a part of a community legacy. Choose more than just a rental; choose an experience, choose memories, choose the very best for our community. Choose TJ's House of Bounce.
Enter Date & Time