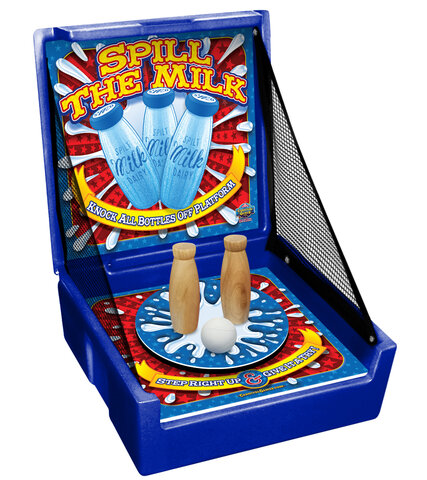 Spill The Milk Carnival Game 🎡
Welcome to the Spill The Milk Carnival Game, where fun and excitement await! This classic carnival game is perfect for all ages and will keep you entertained for hours.
Get ready to test your aim and coordination as you try to knock down the stacked milk bottles using a soft ball. The objective is simple - throw the ball with just the right amount of force to knock down as many bottles as possible. Each bottle you successfully topple will earn you points and bring you closer to victory.
The Spill The Milk Carnival Game is made with sturdy materials to ensure durability and long-lasting fun. It is designed for both indoor and outdoor use, making it a versatile addition to any event or party. With its vibrant colors and attractive design, this game will instantly grab the attention of your guests and create a lively atmosphere.
Whether you are hosting a birthday party, school carnival, or community event, the Spill The Milk Carnival Game is a must-have attraction. It offers endless entertainment and friendly competition, making it a hit with both kids and adults. Challenge your friends and family to see who can knock down the most bottles and claim the title of the ultimate milk spiller!
So, what are you waiting for? Bring the excitement of the carnival to your next gathering with the Spill The Milk Carnival Game. Get ready to have a blast as you aim, throw, and spill your way to victory!