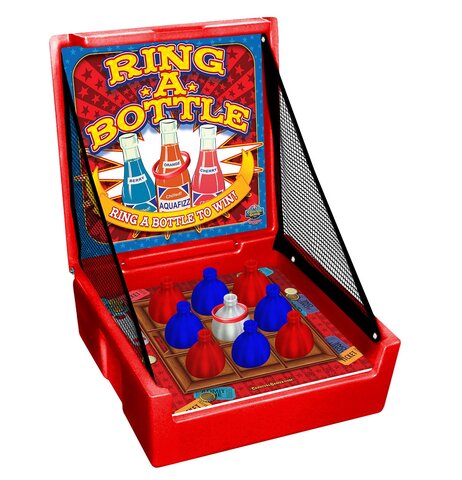 Ring A Bottle Carnival Game 🎡
Introducing the exciting and nostalgic Ring A Bottle Carnival Game! 🎡 This classic game is perfect for adding a touch of fun and challenge to any event or party.
The Ring A Bottle Carnival Game is beautifully crafted with vibrant colors and sturdy materials, ensuring durability and longevity. It features a sturdy base with multiple bottle targets arranged in a strategic pattern. The objective is simple yet thrilling - toss the rings onto the bottles and aim for a perfect fit!
Whether you're hosting a school carnival, birthday party, or corporate event, this game is guaranteed to entertain guests of all ages. It's the perfect combination of skill and luck, making it suitable for both children and adults.
Not only does the Ring A Bottle Carnival Game provide endless entertainment, but it also promotes healthy competition and social interaction. Watch as players strategize, concentrate, and cheer each other on in their quest to ring the bottles and claim victory!
Setting up the Ring A Bottle Carnival Game is a breeze. It is compact and lightweight, making it easy to transport and assemble. With its eye-catching design, it will instantly attract attention and draw crowds to your event.
So, whether you're looking to create a memorable experience for your guests or add a touch of vintage charm to your party, the Ring A Bottle Carnival Game is the perfect choice. Get ready for hours of laughter, excitement, and friendly competition with this classic carnival game! 🎪