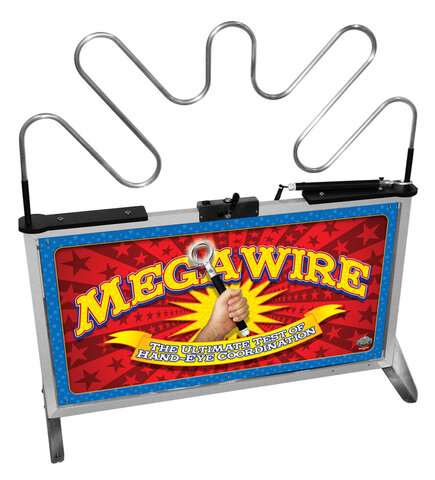 Mega Wire ⚡️ Carnival Game 🎡
Introducing the electrifying Mega Wire carnival Game get ready to test your nerves and steady hand as you navigate the twists and turns of this thrilling challenge runs on battery power.
The Mega Wire carnival Game is a classic favorite that will keep players of all ages entertained for hours. The objective is simple: guide the metal loop along the electrified wire without touching it. Sounds easy, right? Think again!
With its eye-catching carnival theme and vibrant colors, this game will be the highlight of any event or party. The sturdy construction ensures durability, making it perfect for both indoor and outdoor use. Whether you're hosting a carnival-themed birthday party, a school fair, or a company event, the Mega Wire carnival Game is guaranteed to bring excitement and laughter to your guests. Not only is the Mega Wire carnival Game fun and engaging, but it also enhances hand-eye coordination, concentration, and fine motor skills. It's a fantastic way to challenge your friends, family, or colleagues and see who can conquer the electrifying obstacle course.
So, what are you waiting for? Add a jolt of excitement to your next event with the Mega Wire Carnival Game get ready to feel the adrenaline rush as you attempt to conquer the electrified wire. Will you be able to navigate the twists and turns, or will you feel the shocking sensation? The only way to find out is to grab the metal loop and take on the challenge!