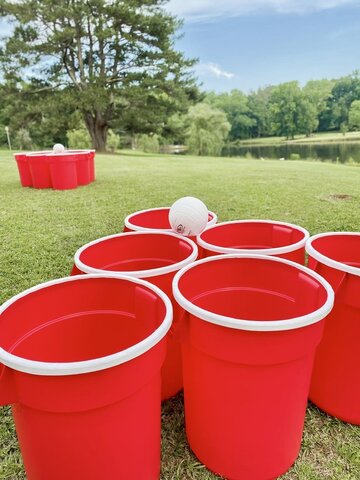 Giant Yard Pong 🏐
Looking for a fun and exciting game to liven up your next outdoor gathering? Look no further than our Giant Yard Pong rental! This oversized version of the classic party game will take your event to the next level.
Our Giant Yard Pong set includes everything you need to get the party started. It features 12 giant buckets and two giant balls, making it perfect for both small and large groups. The buckets are made of durable and weather-resistant materials, ensuring they can withstand hours of play.
Whether you're hosting a backyard barbecue, a birthday party, or a corporate event, Giant Yard Pong is guaranteed to be a hit. It's easy to set up and can be played on any flat surface, such as grass, sand, or concrete. Plus, it's suitable for all ages, making it a great choice for family-friendly gatherings.
Not only is Giant Yard Pong a blast to play, but it also encourages friendly competition and teamwork. It's a fantastic way to bring people together, break the ice, and create lasting memories. And with its eye-catching design, it will surely be the focal point of your event.
So why wait? Rent our Giant Yard Pong set today and add a unique and entertaining element to your next outdoor gathering. Your guests will thank you for it!