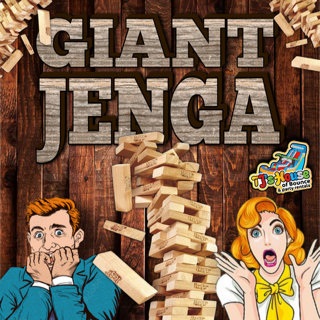 Giant Jenga
Introducing the ultimate party game - Giant Jenga! This classic game has been super-sized to create an unforgettable experience for players of all ages.
Giant Jenga is easy to set up and play, making it the perfect addition to any backyard BBQ, beach day, or family game night. Players take turns removing a block from the tower and placing it on top, all while trying to keep the tower from toppling over. The last player to successfully remove and place a block without causing the tower to fall is the winner!
Whether you're a seasoned Jenga pro or a first-time player, Giant Jenga is sure to provide hours of entertainment and friendly competition. So gather your friends and family, and get ready to stack, balance, and strategize your way to victory with Giant Jenga!